Chianti Classico Riserva 2007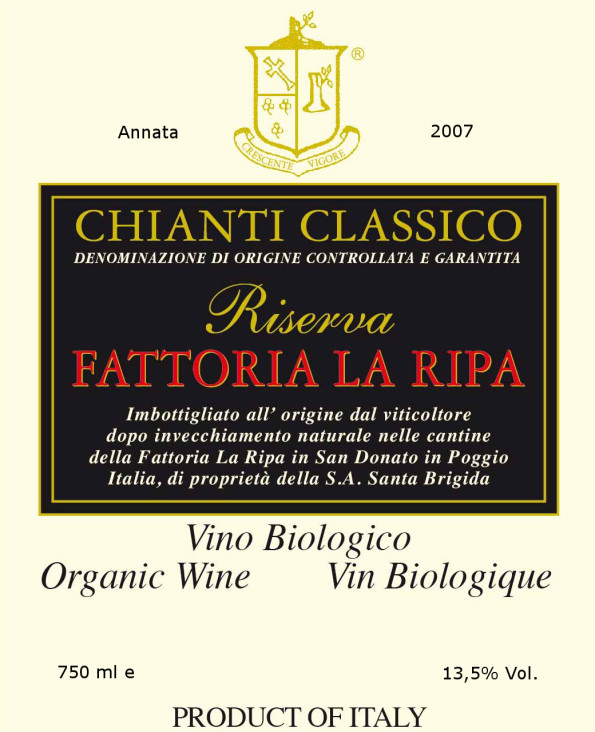 Ratings: Silver Medal in the "2009 Los Angeles International Wine & Spirits Competition", Eno-Verlag: 4 stars, Kyle Phillips on "Italian Wine Review" 88-90/100, International Wine Review 87/100, Luca Maroni 82 points (Index of Pleasantness), "Mondo" 83 points, Guida dell'Espresso 3 bottles and 15/20, Guida Slow Food al Vino Quotidiano 2 stars, I Vini di Veronelli 2010 85/100 and 1 star, Wein-Plus.de 86+/100 Excellent;
Classification: D.O.C.G., certified as: "produced with Organic grapes".
Grape Varieties Blend: Sangiovese 90%, Canaiolo 10%
Vinification: Traditional style with "governo". Temperature of fermentation between 25° e 30° C.
Mauration and Refinement: Oak casks in (about 2 years) then bottle (minimum 6 months).
Organoleptic Characteristics of the wine:
Colour:

Deep black cherry ruby;

Bouquet:

Intense,sour cherry fruit supported by deft berry fruit acidity and some wet bark bitterness, very pleasant depth,  spicy finish with pleasant tobacco notes.

Flavour:

Rich cherry fruit supported by clean sour berry fruit acidity and by smooth sweet deep tanins, well balanced, sour berry fruit finish. Very good persistance. 
Alcool 14 % , Total acidity 5,6 g/l, Dry Extract 31,5 g/l 
  Availability and prices will be given on demand