Olio Extravergine di Oliva
delle colline del Chianti Classico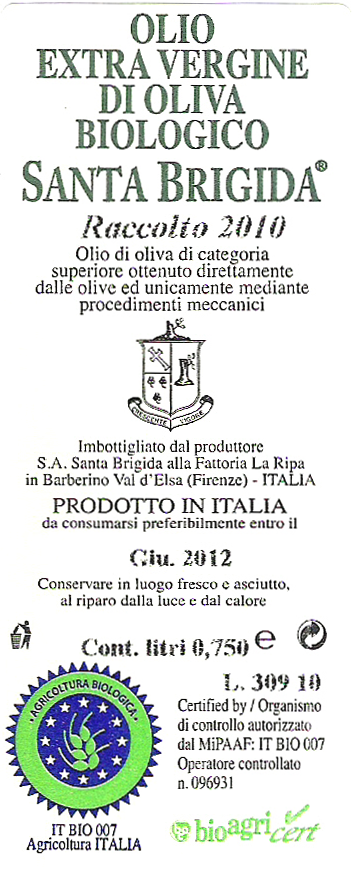 Ratings: Silver Medal at the "2011 Los Angeles International Extra Virgin Olive Oil Competition"
Classification: Extra Virgin Olive Oil (D.O.P. del Chianti Classico) certified Organic.
Variety of the Olives: Moraiolo, Correggiolo, Leccino, Pendolino.
Type of Pressing: First cold pressing without addition of any chemical in a traditional mill with stone grinding wheels.
Organoleptic Characteristics:
Colour:

  olive green tending to gold with ageing, dull before sedimentation then brillant, especially after filtration, scarce fluidity.
Bouquet

:

intense, fruity, well balanced and fresh
Flavour:  fruity fresh, harmonic, pleasantly bitter.
Acidity 0,15%, Peroxydes 4,70 meqO2/Kg,  CMP total (phenolic antioxydants) 150 mg/Kg,  Cholesterol 0 mg/Kg,  Delta k  -0,001, Saturated fats 10%, Vitamine E 80 mg/Kg.
Availability and prices will be given on demand.