Vinsanto 2000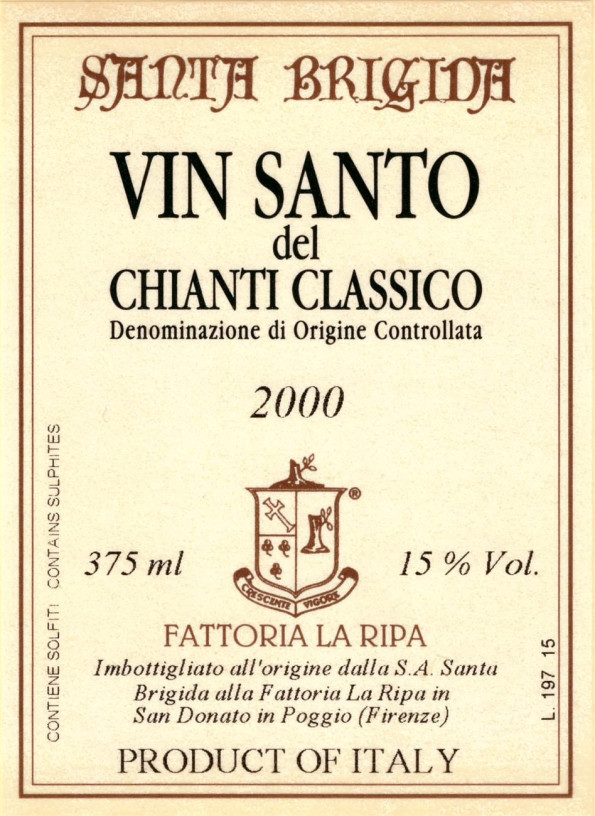 Ratings: Diploma di Menzione 2a Rassegna Internazionale dei Vini Passiti Gran Palio della Signoria dei Bentivoglio 2008, Rocca dei Bentivoglio, Bazzano (Bo) points 81;
Classification: D.O.C.
Grape Varieties Blend: Malvasia 50%, Trebbiano 45%, Sangiovese 5%.
Vinification: Grapes harvested in September and faded on canes trays till mid January then pressed. Must slowly fermented for 10 years in oak barrels of 225 l  sealed wih wax. 
Maturation and Refinement: Oak barrels (8 years) then bottle (1 year).
Organoleptic Characteristics of the wine:
Colour:

   Amber , intense, limpid, with golden glints
Bouquet

:

   Very aromatic, walnut husk, hazelnut, apricot, honey.
Flavour:    Sapid, warming, very supple and velvety, very persistent.
Alcohol 17,55%, Total Acidity 7,80 g/l, Sugar 45,90 g/l, Net Dry Extract 38,30g/l
Price and availability will be given on demand